The Task
: - Install an FZR400 swing-arm on an RZ350 & still have the bike handle well.
The Problem
: - The pivot for the dog-bones, on the FZR400 swing-arm, hits the shock.
If I lengthen the dog-bones so that the pivot clears the shock, then the ride height is 40mm (about 1.75") too low.
Possible Solution #1
: - Shorten the Link, from shock to frame, by 10mm and use 90mm long dog-bones
Then the swing-arm can drop down further and I can get the OEM ride height.
Pro- I can keep the center-stand
Con – The Link will cost about $500 + dog-bones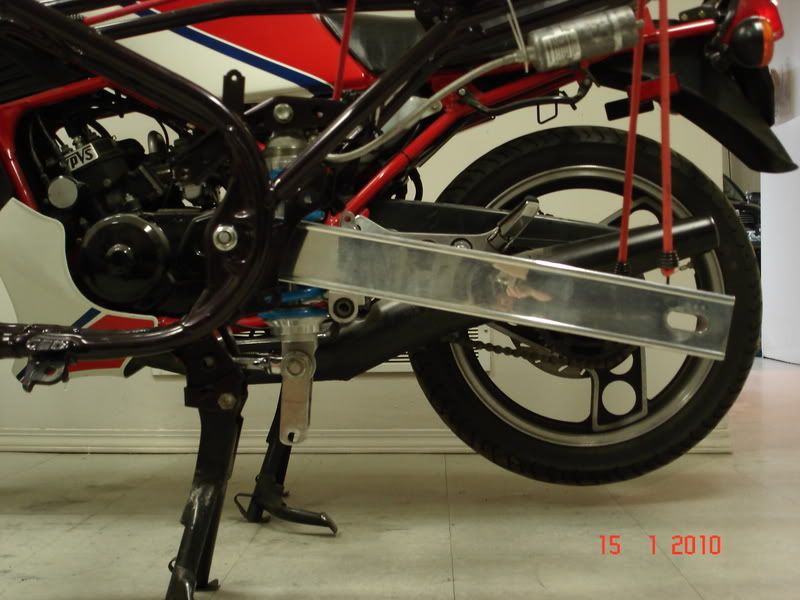 Possible Solution #2
: - Lower the Top Shock mount by 35mm and use 115mm dog-bones.
The bottom of the shock pivots down & forward about 10mm.
Once again, the swing-arm can drop down further and I can get the OEM ride height.
Pro – Cost will be about $20 + dog-bones
Con – will have to lose the center-stand & I don't like the angle that the link is on (pointing down).
Assumptions
: - Changing the Link length, Dog-bone length, or dog-bone pivot location on the swing-arm,
will affect the rate at which the Shock compresses when compared to Rear axle travel.
This will affect the handling of the bike.
Drawings
: - I measured the OEM rear suspension setup and made sketches of what I thought was relevant.
I then measured & made sketches of the 2 proposed solutions.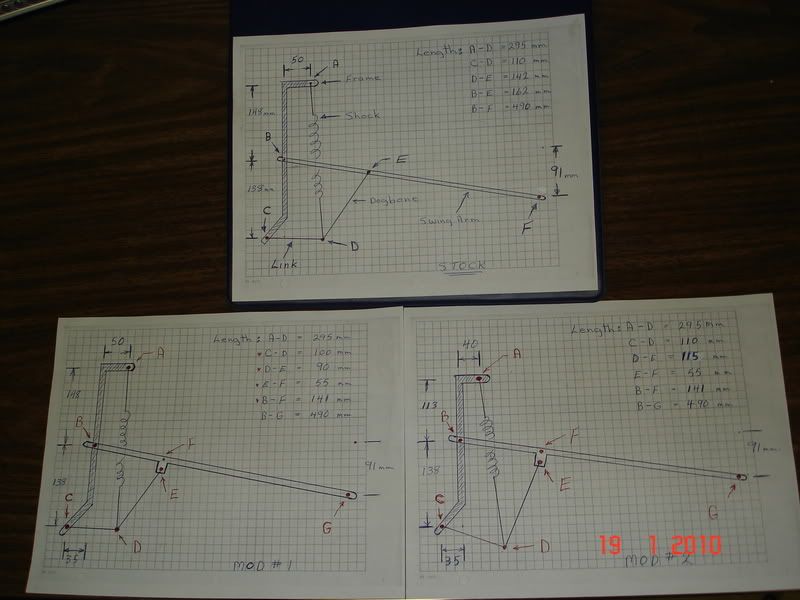 The Next Step
: - Transfer the dimensions on the 3 sketches into CAD drawings.
Then move the rear axle through its 100mm of travel and determine the rate at which the shock compresses.
From this I should see how each of the proposed solutions compares to the OEM suspension.
I could then use the modification that more closely resembles the stock set-up.
The Questions
: -
Does any of this make sense?
Am I on the right track?
Will one idea work better than the other?
Does anybody see problems with either idea?
Does anybody have a different solution?
If anyone has done either of these mods, how well did it work?
Disclaimer
: - I am not an engineer, a designer, a machinist, and I'm certainly not an artist.
I'm just looking for advice, so that this bike doesn't end up handling like a 25 year old 4 stroke.
Any information would be appreciated.
Thanks.