Last time I posted, I had just finished disassembling the rear end of the bike.
So, I've cleaned all the grease & chain lube off of the frame, shock and swing-arm, then I went over the aluminum parts with a bit of polish.
They cleaned up pretty good.
They're definitely not show quality, but they do have a bit more shine than they did.
(Right signal has been polished, the Left signal was not.)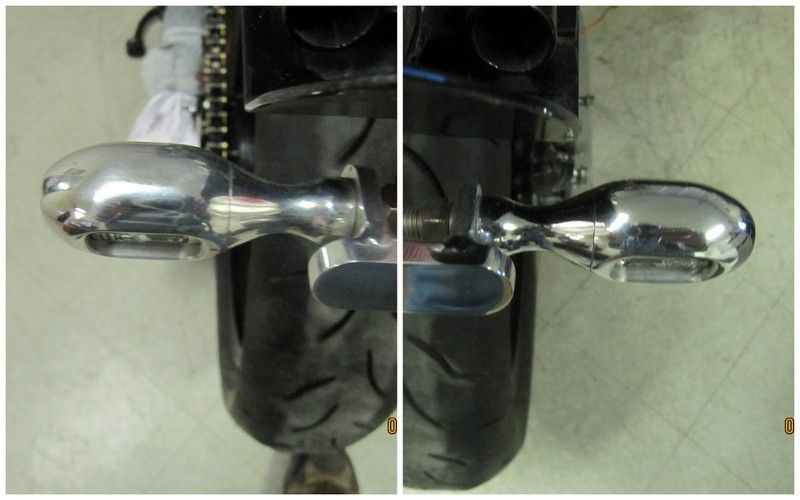 A while back I mentioned that I got some new Metzeler tires, becuse the old Bridgstones were getting a little flat in the middle.
The flat spot was a bit hard to see in my previous pictures, but it's pretty obvious in this one.
When I put the rear end back together, I also installed a new set of FZ600 dogbones.
The new dogbones are 9mm shorter than stock, and will raise the rear ride height by 30mm.
I also installed the exhaust hanger for the new pipes. It's mounted behind the footpeg bracket, using the footpeg bracket bolts.
Anyway, once I polished the swing-arm and rear turn signals, I kinda had to polish the front turn signals.
And then I polished the clip-ons, and the top triple tree.
The bike was starting to look a bit better, so I figured I might as well do the headlight bracket.
However, the headlight bracket is a complicated piece, with lots of corners and angles and small little spaces.
So in order to do it right, the bracket had to come off the bike.
But, the brake line runs through the middle of the bracket, and in order to get the brake line free, I had to remove the gauges.
However, in order to remove the gauges, I had to remove the top triple tree.
And before I could remove the triple, I had to take off the clip-on bars.
But there was not enough slack in the brake line to lift the clip ons up aff the forks tubes.
So, I took off the brake calipers, removed the front wheel, took off the front fender, dropped the forks, took off the clip-ons,
removed the top triple, took off the gauges, and then headlight bracket just about fell off the bike.
At this time, there was only the steering stem nut holding the lowere tripple in place, so I figured I might as remove it and regrease the front end.
I gave the headlight bracket a quick polish, and it shined up a bit.
Then the front end was re-assembled.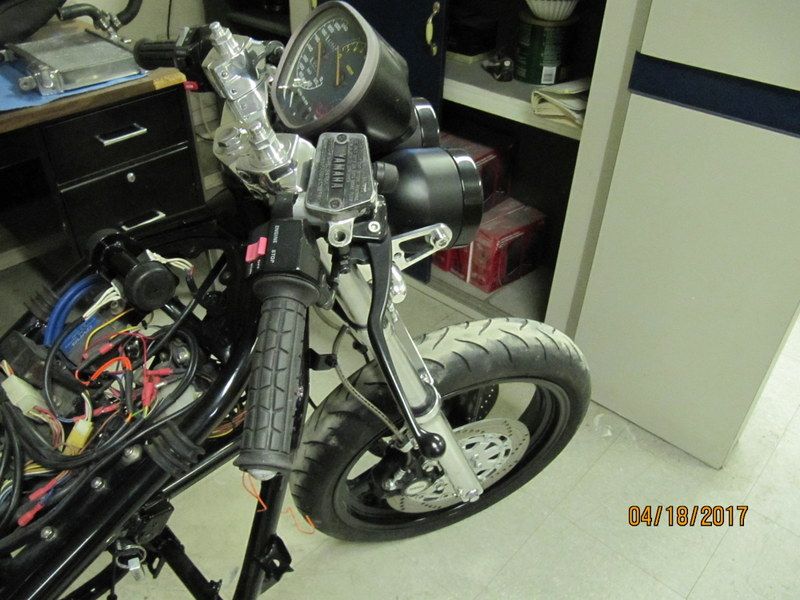 So, the bike's all cleaned, polished and re-greased. The engine's rebuilt and assembled.
The only thing left to do is a bit af re-assembly.